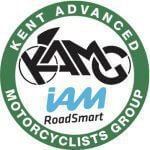 Kent Advanced Motorcyclists Group
It's very easy to join KAMG:
You can call in to one of our Group nights at The Kentagon at Brands Hatch on the last Thursday of each month at 7.30pm. Ask to speak to the membership secretary, David Howard, or contact him on membership@kamg.org.uk.  He will tell you all you need to know about the group and the advanced riding course and joining IAM RoadSmart. (To become a member of KAMG and take the Advanced Rider course you will also become a member of IAM RoadSmart.)
Alternatively, you can contact the IAM direct at www.iamroadsmart.org.uk and follow the links to the motorcycle advanced riding course and when asked for your local group or postcode enter KAMG's number, K2095.
Currently the course costs £149 which includes the first year's membership both to IAM RoadSmart and to KAMG. It also includes the course workbook and materials and the cost of the advanced riding test. After the first year the annual membership of KAMG is £25 and annual membership of the IAM is £33.
However, before you commit if you are not sure what is involved and whether "advanced riding" is for you, you can arrange for a free taster ride so that you can "try before you buy". This is an opportunity to ride out for an hour with one of our observer team who, at the end of the ride, will offer guidance and advice in a relaxed and informal manner over a cup of tea or coffee. To find out when taster ride sessions are scheduled please contact chairman@kamg.org.uk .
Registered Charity Number: 1060837 - IAM Membership Number: K2095.   Copyright@2017 Kent Advanced Motorcycle Group.